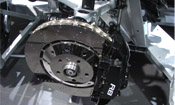 Does your car need suspension repair in Bergen County, NJ? With over 30 years of experience, Village Auto Body has been providing suspension repair in Bergen County, NJ for many different types of vehicles. We provide a full range of auto body services from auto body repair, auto body painting to car mechanic and suspension repair. We own and operate towing trucks and flat beds to transport your vehicle to our auto body repair shop in Bergen County, NJ.
We specialize in suspension repair that will restore your vehicle after being involved in a major collision, or if your car needs new shocks and struts for a better ride. When your car drives roughly or drifts when making a turn this means that your suspension needs repair. The expert car mechanics at Village Auto Body will check your entire suspension system and parts to pin-point the driving problem. Most cases your car's suspension might be faulty due to steering wheel alignment problems or just having out of balance tires. By having your vehicle suspension checked and repaired at Village Auto Body, we will ensure that your vehicle will ride much smoother and prevent accidents in the future.
When your vehicle has been involved in a car accident and you need a certified and experienced repair shop to restore your car, trust the experts at Village Auto Body to get your car back on the road.
For more information about our suspension repair services in Bergen County, NJ, please call Village Auto Body today at (201) 251-9195.
Village Auto Body - Your Suspension Repair in Bergen County, NJ Experts
Suspension Repair in Bergen County, NJ